THE FUTURE IS WOMAN - International women's day 
THE FUTURE IS WOMAN - International women's day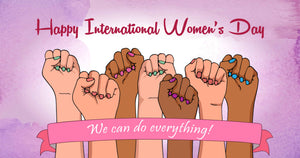 "You educate a man. You educate a man. You educate a woman, you educate a generation "
Brigham Young.
This should be the goal of our life, we have to try our best to follow this because women are the first educators, doctors and mothers, if you want the next generation to live a better life, educating women is the key.
"Woman" is a word that paints different pictures in our minds and releases diverse emotions of selfless love and caring. 
There is a dictionary meaning of the word but in reality, no one can show or prove the meaning of what a woman is.
International Women's Day is about celebrating women and womanhood, their struggle to have a voice in this misogynistic world. 
Woman's day is celebrated on 8th March every year across the world. The day is celebrated in a show of appreciation, respect, and love towards women. Precisely, the day was set aside to celebrate the social, political and economic achievements made by the women globally. The origin of the International Women's Day can be traced back to Europe and Russia.
International women's day is an event which was started with the political essence in assurance of women's right but now it is a celebration of women's struggle for independence and liberalization, every single country celebrates the day with a touch of "culture" to show their love and honor for the women's in people's life. 
A day when ladies from all the nations come together to increase awareness about women 's rights. Women have come a long way to find the place and respect in this male-dominated world. 
In today's world women are doing every single job a man can do. Even more than that you will find women in every single field from working at home to defending the country, women are working hard in every single field.
It was the first time in the history of India where  Captain Tanya Shergill created history by becoming the first woman to lead an all-male marching at the 72nd Army day parade in 2019
Even in history, the women of India have made some remarkable historical impact. A courageous and witty woman like Rani of Jhansi, Anandibai Gopalrao Joshi first Indian physician, Arunima Sinha first Indian amputee to climb Mount Everest, Kalpana Chawla was the first Indian woman who went in space, Kiran Bedi became the first woman officer in India and many more.
And there are so many more stories around us each and every day, it can be your sister who stood up against her bullies or your grandmother teaching about gender equality.
So of course, to all the women out there you deserve this day to celebrate how far you have come and this day is a reminder to stand up for equality and freedom for the women and to acknowledge their contribution to society.
HAPPY INTERNATIONAL WOMEN'S DAY.