DREAMS IN A BUBBLE GLIDING THROUGH THE CITY BOMBAY
DREAMS IN A BUBBLE GLIDING THROUGH THE CITY BOMBAY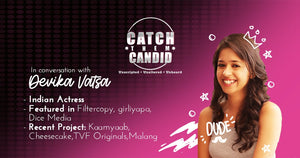 Indian viewers have a huge appetite for online content. It almost seems like we are in a new era of TV-watching experience and we are constantly searching for engaging yet light hearted content which has obviously made us all familiar with the concept of "binge watching". With "on-point" comedy sketches to "Oh god, too relatable stuff", it has given our lives a quirky smirk and at times some moments of teary eyes. OTT streaming platforms have given us the liberty to watch videos anytime and anywhere, thus becoming an escalating trend which has grown tremendously. 
We have realized that the world is full of storytellers and one such earnest yet adorable story that we came across was the one, when we were in conversation with one of the most popular faces of Indian web series Devika Vatsa. As an Indian actress she has given stellar performances in comedy sketches produced by some of the well-received digital channels in India namely 'Filter Copy', 'Dice Media' and 'Girlyapa' that serves up freshly brewed content every day! With YouTube videos over 4-5 million views, her acting has been adored widely and it is a pleasure to watch her perform. The actress has shared screen in TV commercials with Bollywood superstars like Rajkumar Rao, Ranveer Singh and has been featured in the prominent web series such as ''It's not that simple'' alongside Purab Kohli and Swara Bhaskar which is streaming online on Voot Originals. She will be also featuring in the promising and upcoming venture called "Cheesecake" by TVF Originals that would definitely be a 'paw-some' visual treat for all dog lovers with a heart-touching narrative. "A story like this is untouched in the Indian web series space where the lead of the series is a dog!", says Devika. Well it'll be a delight to watch her on our screens yet again.
When asked what made her to take up a career as an actress, we were really surprised! We got to know that she never planned anything, "Initially I never thought so much about acting as a career. It was all about enjoying the craft and the experiencing how things work on a shoot" she says contentedly. She graduated from Delhi University where she got in touch with various advertisements and TV commercials. She joyously told us how she went for the auditions of Dum Laga Ke Haisha! Just to give it a try and eventually ended up getting a role in the film! She said "I was earning during the days of college and it was a big pocket money!" Well we all know how college days are, when you have to save a dime in order to have a lavish outing until and unless you go broke with the approaching month end but Devika was always used to the idea of 'working'. "My father used to accompany me to the late night shoots, it was then, when someone told him that I should pursue acting as a career. He asked me whether I wanted to do this and with glittery eyes I said yes!". As we grow up in an Indian household we realize the fact that our parents are never convinced when you pitch in your idea, until and unless they get a validation from their neighborhood folks "ab log kehre hain aur tareef karr rahe hai, matlab kuch toh baat hogi!".
"I would give it to my parents", Devika says proudly. No matter what happened, her parents were always supportive of her, had faith in the work she did and always stood for her. When asked about her first step in the industry she says, "There is no one step, it is about taking multiple steps which land you in multiple projects". It is true that success is not an event, it is a process. To finish any great endeavor you must first start! So that's when she got her portfolio made. "After that I kept working and realized it's all about a chain of multiple surprises that take you to a new destination,'' she says. After which she decided to settle down in city of dreams 'Bombay'. "I came to Bombay with zero links in the industry. All I had was dreams of being an actress with loads of passion, a zealous heart and 50 KGs of luggage." Now survival in such a city is immensely expensive and of course when you are constantly stuck with traffic it is equally nerve-racking but she had to find a place to stay, she had to find her new home. Luckily she met people whom she had worked with earlier as they were also looking for a place. See? It's true, that there will be a past that will always open up new answers for you in the future.  After the initial days of a blurry picture in Bombay she started painting her way into a colorful canvas in the city of billion hopes. She even worked as a costume director in the popular Mohit Suri Film 'Humari Adhuri Kahaani'. "I came to this city, got a house and I clearly remember that day because it was the launch of the new Metro in the city." Well this was a truly a 'remarkable' start to her journey. "I was a mere 21 year old who was always striving for more. As I was getting work, whether it was Vidya Ma'am or any director they would guide me with little insights."
There is no shying away from the fact that Mumbai is a tough place! A single misstep can result in calamity. It is a city where "work is always in progress". When we asked Devika about her suggestions to a newbie in the B-town she says "Just start from anywhere. Just start now! You ought to face the real struggle first to realize whether you will actually enjoy this or not, whether you'll be able to deal with the struggles of the life in Bombay." As she said this, we realize life is all about facing as it is, it's about facing your fears now and then making your way through them because struggles will last for a long time, they'll last forever in some way or the other. "Ab toh puri zindagi yahin karna hain", she rightly says. "Do what makes you happy and what pays your rent in Bombay!" And we couldn't have agreed more. A shimmering city where the heart of Bollywood breathes, where it would be rightful to say that it is a place where the 'rent rates' are like the temperature during the summers, they can make you sweat! She also suggests that every budding actor must pursue a professional training, from enrolling yourself into different workshops to always being in touch with the craft. Whenever she gets the time to do so, she does. "Remember to concentrate on the art" Devika stresses.  But as we became more and more skeptical and dubious about the lifestyle in Bombay she told us that with ascending years of survival the paychecks will eventually increase! "I don't plan to retire and hence you need accept that struggle your way through, it will be fruitful in the end!" 
We all are living an accelerated life, fast paced, high on work and low on sleep kind of lifestyle. We are definitely encapsulated within the walls of social media twenty four seven. The lines start blurring between your professional life and personal life. We were glad to know how Devika manages to keep a correct balance between both of them. "Of course, sometimes we have a 12 hour shoot schedule, at times the location of the shoot changes and it gets hectic. But I keep taking breaks. I plan small trips to different places that are quiet, small villages and silent places that are a bit isolated. Vacations like this give me a realistic viewpoint. Whenever I have collaborated with the nature, I have realized that your happiness at the end of the day lies within you." She says expressing her love for traveling! The best part is that she is not that tech-savvy so she gets to spend time with the people in real-time "they give me a perspective of the world outside". After which there was a sudden question at the back of our minds "Then how do you manage your socials online?" because to be honest, maintaining an image on the internet is also important for the new age actors these days, with the arrival of influencers on Instagram it has made this important too, to which she replied saying "Social media matters a lot, with influencers and businesses on the page, you need to give in your efforts on it." Bursting into laughter, she says "I keep running out of caption" But she even said that a lot of content creators put a lot of thought and time to dwell on a particular piece that they wish to create. "It has also become the demand of the industry, with acting, all of this is also important." she says. As we were talking we realized how as Delhiites we have certain preconceived notions about the city Bombay, to which she had a very optimistic replies saying that "Our industry is as safe or as bad as any other corporate office, I have never faced or encountered any such issues. If you are strong enough and strong headed things will be great!" Extracting an immense fan base on social media, Devika has always been a popular face in the sphere of Indian Web series but she emphasized on the fact that she was always surrounded by the right people, whether it is her fans or her friends she has always received love and support. It was truly inspiring to know when she says "I have never ever thought of going back home. You have to be independent and deal with things on your own." 
We in fact did a little poking when we asked her about her competitors in the field, to which her reply was really soothing when she says "Competition exists but everyone is very supportive of each other. Everyone is getting work and their piece of victory with every project." The bonds and friendships that we often get to see online, through instagram stories and posts are so positive! They actually uplift the mood of the fans. We were really glad to know that they genuinely care for each other and help them at times of crisis especially when you are living all alone in the city Bombay. You no more feel alone, rather there's a sense of assurance when you have such people close. At times we have a 12 hour shoot that may stretch over a month and of course you end up developing a personal connect with your co-actors. At times when you are prepping for the characters that bond and that friendship or an equation starts developing. I know that these bonds will remain beyond the shoot schedule, like forever." She says, it was peaceful to know this, an unknown place, among unfamiliar faces, uncertain circumstances sometimes brings out the best in you. Truly, we couldn't agree more because even as human beings we always seek faith, trust and support from our peers. "At times the most unnecessary conversations lead to the most memorable days. The Ice is broken and melted over somewhere!" She says. 
It was interesting to know that she even knows how to surf as she learnt it all herself, she says "Surfing is my ultimate peace it is like meditation whenever I go into the water." We agreed to it as we realized that nature has a magical power to heal everything in life. Life crisis seems to be meaningless whenever you come in touch with it. For the people who don't know and are probably reading this we insist them to hear her sing once and if you do, please ask her to upload more such content because she has beautiful vocals! What inspired us to have a conversation with Devika was her will to explore new horizons, her passion about the art form. How she manages to be so charismatic yet so simplistic. How in this so called 'age of millennial' she has kept her grounded and real. How she loves to be in her own bubble, how she will go for those old classic Bollywood movies or how she secretly plans to retire at the age of 32 and wants to chill in a sustainable village of her own with zero waste, "lekin sirf Oscar jeetne ke baad!" She says while laughing out loud! It was definitely a treat to hear her talk about her journey so far. You may have seen her in films, ads and web series, playing various kinds of roles with utmost perfection but the honesty she has in real life is commendable and was seen when she was caught candid at "Catch Them Candid; Unscripted. Unaltered. Unheard."