CATCH THEM CANDID – SHUBHAM GAUR
CATCH THEM CANDID – SHUBHAM GAUR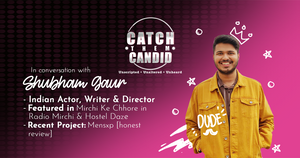 While looking at the world as a larger picture we often realize we have a lot of problems already in our hands and that larger picture of the world doesn't even looks like a Da Vinci painting anymore, some of them are handmade disasters that were truly man-made, are already affecting our lives in a way that we drive a lot of stress from the same. Yes folks! We are all kittens of capitalism! The only day we love our jobs is the day when we finally receive the salary that is the beginning of the month. Yes! Sometimes our coffee also needs a cup of coffee to release the pressure. Whether it's surviving through the same Monday blues or playing hide & seek game with our bosses in the office every day, we are bound to take a lot of stress. We all are stuck in a big traffic jam where every next person is honking about his or her own problems. We need to flush this congestion; at times all we need is a free and empty road whose traffic lights are always green. Probably sometimes we want to roll down those windows and feel the fresh air outside. That road of freedom that we often look out for goes through the beautiful landscapes of this art form called comedy. Comedy is no joke!
From the workload on our shoulders to the EMI bills, from the uncertainty of getting a seat in the metro at Rajiv Chowk to the uncertainty about the future in general, everything just vanishes for that period of time whenever you are sharing a moment of laughter. As someone rightly said "We don't have to worry about the time when we will fall short on physicists in the world until and unless we have enough comedians alive to entertain us! Comedy is a therapy! A light hearted form of art that is a very serious business, we really do underestimate the most freely available but the most significant aspect in our lives, humor. Humor is the spice of life! Without this, life seems like a 'bland Khichdi' To make our day even more joyful and to make our conversations even spicier we had India's most popular internet sensation, a young comedian, an actor and a writer who surprisingly calls himself boring but actually isn't, Shubham Gaur! While this conversation was on Shubham was heading towards Mumbai for his latest venture "Hostel Daze" streaming now on Amazon Prime.
As Shubham was settling down at the airport before his flight, we got into a candid conversation. Shubham has been doing a lot of work lately. From quirky movie reviews at MensXp to playing the role of 'Jaat' in Hostel Daze, Shubham has received a lot of love from his audience. He started at a very young age, rose to fame and even now he continues to deliver rib tickling performances, it was so lovely to know him that he's still so grounded and humble and no we aren't saying this for the sake of it. "Main bohot simple admi hun, I see a lot of eyebrows getting raised whenever they come across the fact that I don't party, I don't like clubbing and yes, I don't drink as well. This is the way I am" You see, from the perspective of the audience, the whole entertainment media seems so flamboyant and of course there is a preconceived notion that what you see after "lights, camera & action" is the actual person in real life. But they are often way different than their on screen self. This doesn't make it their personality, it is their talent, at the end of the day it is the character that they play. Once they are home, they are their usual self. Well we even asked Shubham about his "Once upon a time story…" the untold story from where it all began. "I was always an extremely extrovert kid, a huge attention seeker!" We laughed. "Cracking jokes in the classroom, among friends, telling stories to them, narrating and acting, I used to enjoy every second of it." He said and added "Yes, I was that kid who loved to perform anywhere, be it Nani ka ghar, Daadi ka ghar ya koi function. I was always ready to grab the eye of the audience. I was not among those kids who'll shy away, just give me a spotlight and I'll be ready to perform." Quite a quirky kid he was in school.
Whenever we see his sketches or videos, it's evident that he has mastered the art over the time and because of which we all know he will last for long! So a long way to go! We have been getting familiar with a lot of content creators lately, but Shubham is really special because of the amount of diverse work he has done in the past. "When I started making videos, I realized that a lot of people didn't had the access to the internet, matlab 1 GB data toh bohot zyada lagta tha, aur aaj dekho yahan 3 GB per day bhi ke kamm lagne laga hain." We couldn't agree more! Eventually once his funny videos were out in public space and were entertaining us on the other hand he was praised so much by the audience and in no time Shubham made his mark. Many YouTube creators like AIB, many standup comics, TVF began getting in touch with him. "Sahi kaam karte raho, apko sahi log apne aap mil jayengay." He said. It happened very naturally, the pieces started to fall in place one by one and one thing led to another. We even asked him about his suggestions to the young creators, budding actors and artists to which he said "Firstly you need to realize that whether you actually love the work or you are doing all this for fame, don't do it if it doesn't comes from within." So true! After this whole Instagram showbiz a lot of fantastic content is produced, no doubt! But a lot of craptastic content is produced. They won't last for long though. "One has to be very critical with him because that is very necessary." We realized content creation is entertainment, for sure but there's also a responsibility attached to it. At times like this it's not only about entertainment but 'infotainment' too! "While we were developing the concept for funny movie reviews at MensXp we realized we should avoid content or remarks that are gender biased and saying things that are derogatory." He said. "When it comes as to how one should start, remember one thing that you need to try things first, you can't succeed without any attempts. So keep trying, whether it is a standup or acting or any art form, remember that there is no such single way to success, audience ko kuch bhi click kar sakta hain." One day all those late nights and early mornings will pay off. Keep hustling; it'll be all worth it at the end! "Insaan ko art se mohabbat honi chahiye" We agreed, totally on point! In every way or the other we are surrounded by art, an art that has been marketed by a marketing team, whether it's YouTube or the songs you here on your playlists, so there's always a business behind it but that shouldn't be the core of the art form. "Meri zaroratien bohot kamm hai" He said. Meaning that he is not into things that are very lavish or expensive, he also said he has no unnecessary desires of being an Instagram influencer. His simplicity is his charm! "As I said, I don't prefer to do things that a lot teenagers or mid twenty year olds would love to do." He said and added "I still travel through buses, take the metro, zyada se zyada cab leli, I'm not into having luxurious watches and flaunting cars." We asked the actor how does he still manages to remain so grounded and he had the simplest answer of all, he said "I never worry about such materialistic things, I am a storyteller, and I love making people laugh that's all I want!" The actor-comedian from Delhi is also very keen to write poetry. If you haven't, please do give it a read, you'll find them on his instagram channel. He is amazing! "I always wanted to write; currently I am planning to write a book, I am also reading a lot of Hindi writers, but vo book ka kaam thoda pending chal raha hai, ek toh sardiya aa chuki hai toh mai thoda cozy hogya hun shayad." We laughed and agreed. The best time to procrastinate is actually the months of winter, we must all agree to it. Somehow the coziness of the blanket makes laziness feel like guilt free! "Also I haven't been to the gym all the credit goes to winters!" He said it with a smile. Shubham has been into the industry while he was very young, we asked him how did he managed to do the hardest thing in the world that was to convince his parents because Indian parents always look out for their children to have a stable job surprisingly Shubham never faced any issues. "My family has always backed me; they never told me what to do and what not to do. I'll tell you a story, when my father got to know about this he didn't say a word, he never asked me or told me anything. Often at times when parents get hassled the kids do feel the fear, it affects them. In my case it was totally opposite. My father use to research about this creative field a lot. He went ahead asking around, he was discussing it with different people without even telling me, so that I don't get hassled. My father has never made me feel afraid of anything." Wow, now that is truly amazing, the moment you get a green flag from your parents you don't care about anything! You don't have to think about the people or the society in general. Truly, our parents are the biggest backbones! We even asked him about his hidden talents, to which he said "Saara talent bahar hai, sab audience ko dikha diya" We laughed. His schedules might get hectic, with shoots all over the place so we asked him how he stills manages to differentiate between personal and professional to which he said "My family is my first preference.
The reason I could still do a lot of work is because of the fact that my family is really supportive, they back me up. They know me well. I don't miss out on family occasions; I make sure I enjoy them to the fullest!" For him his personal life is like his own mental escape, he functions very normally "I know my limits, Mujhey ucha udne ko shauq nahi hain. Agar aap apne naap ke shoes nahi pehnoge, Toh aap chal nahi paogay" Meaning if you won't wear shoes of your own size you will hurt yourself, you won't be able to walk." He is definitely a great human being! A young man who loves milk over tea and coffee, the one who is fanatically crazy about cricket and even considers the 2011 cricket world cup to be the most precious moment of his life, the one who is visionary and wants to have his own business at the age of 40, the one who loves to have shawarma was caught candid at Catch Them Candid; Unscripted. Unheard. Unaltered.