CATCH THEM CANDID - SAHIL VERMA
CATCH THEM CANDID - SAHIL VERMA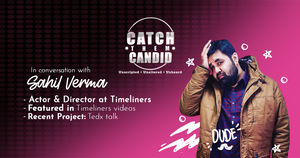 "When we decide our future we decide our packages and don't decide our future" said Sahil Verma in one of his very famous TED talks. A very notable face in the digital world, if you consume content online you definitely have seen him in a lot of videos. His story and journey to the TED platform is as such that he went to Delhi University to pursue his degree in Bachelor in Commerce and Honors. During the course he realized this is not something for him, he was not enjoying what he was studying, so one day his friend asked him to come to go to a workshop and he got into the Dramatics Society of Shaheed Bhagat Singh Evening college. He eventually joined the Theatre also. During his theatre shows he made a lot of friends and met a lot of people that motivated him and critiqued him into becoming better at the art. While he worked as a theatre artist he won several awards. These awards include Best actor and best play award at maulana azad medical college, Best actor and 2nd best play award at Daulat Ram College, Best actor and jury award for best play at Sahitya Kala Parishad theatre festival, Best actor award at SGTB Khalsa college, Best actor awards at PGDAV college, 3rd best play at Mood Indigo, the annual fest of IIT Mumbai, 3rd best play at Antaragni, the annual fest of IIT kanpur. 
His theatre days were going really smooth and he was excelling there and in this time Sahil met Jasbeer and now is a very good friend, he was the one who got into TVF first. So Jasdeep called him one day saying that TVF is in Delhi and they are looking for this particular character and he thought Sahil would be the fit. And they did that video and it was a hit and everybody liked his performance. He was later offered a job but he was still in college and couldn't be a part of TVF because he had to finish his course and the theatre play as well. As soon as he finished college he joined TVF and right after that they closed their vacancy. It's all being at the right place and time and taking that opportunity, and Sahil did that. When it comes to acting a lot people don't know where to start and Sahil says that theatre is the way to start with acting because it sets a base for acting in front of the camera. He was a part of a lot of plays during his theatre days and that gave him a lot of perspective on how to improvise and be a better actor. He shared an incident that he one received a standing ovation at IIT Kanpur for one of his plays that he improvised on. The day he got that public appreciation got recognized he got that realization that if he does this wholeheartedly he could've done it so much better. That is when decided he wants to do this for the rest of his life. Then the next time he had to go to IIT Kanpur for another play he didn't inform his parents because he knew it would be difficult to convince them to pursue acting as a career choice over MBA. He is so grateful for his friends because they always stood by him and were always there for him regardless of the situation and that gave him strength to move forward and these friends are still very close to Sahil. He has worked on more than 35 videos in TVF as an assistant director and he is a very prominent face in a lot of videos. As soon as you open the TVF app you can definitely see him featuring in a lot of videos. His work in TVF and Timliners has definitely brought him some fame and more followers on social media. But with influencers these days it's a bit tough to maintain your own personal space, but for Sahil he doesn't have any problem in maintaining a calm balance between his personal life and digital content. What he likes is criticisms, he loves it when the content gets criticized because then he knows exactly where they went wrong. The mantra to his modesty is to always have that in mind that there is nothing I need to be more, never be satisfied, always starve for more. He idolizes Amitabh Bachhan that if such a celebrated actor still shoots in harsh weather in Manali because he still wants to continue to work and strive more then he also wants to follow in his footsteps. 
He is a very disciplined person, he has to be on time but sometimes everybody needs a little break and it can be deliberate or by chance. He shared an incident where his call time was 6am and he came back late from some place a night before and he woke up at 6 the next morning and then he made up a story of how his tyre got punctured. When it comes to content at present he says that he doesn't care about the competition, what he cares about is only creating good content as a lot of content is already almost saturated. 
When talking about the work culture at TVF and Timeliners he says it's very good and as long as people are doing their work you are good to go. 
Consuming content and gaming is his favorite escape from his hectic schedule or a busy day. 
One thing that he would definitely want to change is his laziness and procrastination eventually. He is an extrovert, he loves meeting new people, talking to them and he never shies away from a stranger and this is one quality he definitely doesn't want to lose. 
He sometimes relates himself to Barney Stinsen from How I Met Your Mother because he is also very particular about his things and might lose it if things are misplaced. 
One dream he has is to make a street play for his gang.