Catch Them Candid- Akshay Nayar
Catch Them Candid- Akshay Nayar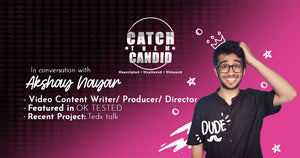 Influencers are a big thing now in the country, everyone follows one of these people on the digital world be it on Instagram, Tik-Tok, their blogs or youtube channel. These social media stars are everywhere! But we take them very lightly and dismiss their success saying "yeh to aisehi famous ho gaye". We rarely look into the story of their success from where they were to what made them decide to be where they are right now. 
One of these social media influencer is Akshay Nayar, someone you must have seen on Scoopwhoop's OK Tested channel on youtube trying different food items to driving a 6 crore car, to reading his articles on their website, memes that he has created, all in all he is one creator you can definitely not miss out on and this is his story.
He was a teenager when he was 100% sure he wanted to get into advertising and made sure everyone around him knew that he was leaving and changing schools. But then he didn't get into the school he desired to get into and that somewhere created a set back for him and he went into his shell. His willingness to do things just died after that rejection. So he did what any other teenager at the time would, started downloading and watching as many movies possible. He also auditioned for a film at the time and he loved the entire process. He was fascinated and curious, in the course of that audition he met Anil Shivakumaran and he advised him to watch certain films. Very obediently Akshay followed his advice, he started downloading more movies and as soon as he would come home from school he would sleep for about 2 hours and then watch movies for 6 hours straight and this is where his passion for films grew. Eventually he got an opportunity to intern with FTII i.e.,Film and Television Institute of India where he had a family friend who was a professor at the institute. The professor introduced him to a few students and from thereafter Akshay stuck with them and he started following them around asking them how things work and what can he do and the students would ask him to tasks like sweep the sets before the shoot, and make sure everything is proper and once the actual process of shooting began, he fell in love with it. The experience of the process where something was just a thought to create that thought into a beautiful artwork was just out of the world for him. He kept doing some work like he started working on small projects, he made a graduation project for school and for his graduation also he made a film and in the process Akshay realised that films is something that affects him to a level that was matchless and making films makes him the happiest. 
 As a filmmaker enthusiast he made sure he learned everything about the craft from understanding camera work to attending theatre classes he did it all. Eventually he got into the film industry and moved to Mumbai where for a while things were okay but eventually he had a dark phase because of how people can be in the industry and that had a negative impact on his mental health and so he took a month long break and came back home to Delhi. In that time Scoopwhoop was hiring and he went in for the interview and the interviewer asked him the most basic question what do you want from this job and he just said "bas khushi chahiye!"and they agreed. He joined Scoopwhoop as the basic production assistant. He made sure he got the props, telling the actors the call time, staying late to make sure that all the footage was transferred and this is how his Scoopwhoop journey started. He took in every work that came his way, from shooting late night in the office to creating content late at night all he knew was that he wanted to create content. Akshay was leaning more towards this kind of content creation because of the instant feedback you would get from the audience and he really enjoyed that. But within three months of working here he was still re-considering the fact that should he have left the film industry or not but now that he thinks about it leaving that industry was one of the best decisions he made. 
For the newbies who want to get into the performing arts he suggests that they need to understand the craft and value it as well and they should know what is that drives you to take up a particular art form. But knowing the industry is fast paced and people are moving from one art form to the other it is important that these people have a skill set backup that is, one should have some technical knowledge where you are employable easily because at the same time having money is also a need. 
The one thing or one place he didn't have to struggle with was his family, he has the most supportive and appreciative family. The only person he had to convince to anything in life was Akshay himself. He also believes that people are more job oriented now and not career oriented. Although he had a lot more job opportunities with a higher pay scale, he was clear in his mind that the kind of career prospective and skill development that Scoopwhoop had to offer would not be anywhere else. The most important aspect of being in the field of communication is to be able to communicate the thoughts and ideas in the most convincing way and to never stop communication, it is always going to be a process. 
 Like any other content creator, there are days where you are flooded with ideas and are motivated to achieve them and then there are days where you are completely blank and well Akshay is definitely not susceptible to this 'artist's block'. But what drives him is content, he might not have the time to do everything at once but he makes sure he creates something everyday that influences and inspires people. Akshay is a video creator, content writer, a performer and anchor, he just loves to see that end result that he has created something out of nothing. 
 The constant need to check your social media is very prevalent now, and you become anxious to an extent where you have to check your phone after every 10 minutes. As for Akshay who is in the business of social media he felt that need too, he started looking at other people's content and felt the urgency to create content of his own, he had to make sure he is following up on all the trends and create the relevant content. He really felt pressured eventually and took the decision to just stop. He made a conscious decision to not look at his phone while travelling and for certain hours on his days off and just to be offline. He started reading books while commuting to work and spending time with his family over the weekends. He is also witnessing the fact that people are not living their lives outside the social media which is not healthy and everybody needs to relax. 
Criticisms come as a prerequisite when it comes to content, everyone has to deal with these comments. But Akshay says the love he gets on these comments just blurs out every other comment and he is extremely thankful and grateful to all his content consumers. 
Content censorship might not be something these content creators are forced to do but somewhere they have to impose this themselves that this censorship comes internally by looking at what is happening externally and even Akshay feels that it is affecting them personally. And he definitely believes that free speech in India is going through a turmoil at this point but people who have the ability should definitely voice their opinions. But one shouldn't always look at entertainers being the ones to always have political opinions. But one should always be aware of all facts before forming their own opinion and not creating an opinion basis of what somebody else has to say.
Everybody gets tired sometimes and needs a little break other than your regular offs and what is that one excuse that always works for Akshay is "mummy ka birthday"and voila day off approved! One thing that helps him escape and relax then he watches shows like Splitsvilla, roadies, where he doesn't really have to use his brains after an intense day. But on weekends he has to watch a movie of his liking. And one thing he definitely doesn't want to change about himself is to keep creating content and that constant feeling to create something. Since he is such a content buff one character he relates to is Andy Samberg from Brooklyn nine-nine the way he is quirky on the show Akshay is like that in reality.
If you are interested in working for Scoopwhoop then according to Akshay there is a lot of fun that happens in the office, lots of discussions and shoots and people just have fun this is what a typical day at the office looks like packed with fun.