ART IN YOUR CITY
ART IN YOUR CITY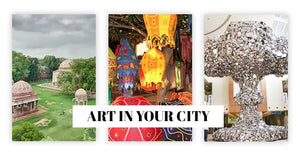 ART IN YOUR CITY!
About art- what is it? The question that often pops up followed with varied answers. True art cannot be defined. Art is neither a process nor a deliberation. It is just a composition of elements in a way that appeals to our senses and emotions. Have you ever looked at vintages? Ever thought about how they were crafted with the minutest perfection? The artists back then used to find inspiration from their surroundings and mix the elements of symbols and colours to showcase the essence of an object. Now, the sad truth is that those perfections have vanished from our society and culture, and the world of art has substantially changed over the last years. 
With the proliferation of museums, biennials and fairs, the amount of work now being made is completely different from all those vintages and antiques that influenced the efficacy of that era. But there is something that has caused the shift so early in this art. Ever wonder what is it? More people, more venues, more publications, more artists, more words and less duration: probably the significant factors that transform the meaning of art have almost ended up the significance of those vintages and antiques. The arrival of money is the prominent factor that has brought about a shift in art and almost completely changed its form from purity to money making. The most important shift has been from men, money and materialism to integrated intellect, concurrence and responsiveness. This century gave birth to a multitude of experiments, modern and novel forms that have reached the point of saturation that easily pleases the eyes. Although, it is not as equal as the vintages but the new approach towards it is the reason for its popularity. 
So, is it possible to go back to the time of antiques and classics, enjoy and cherish those absolute and precise pieces of arts? Certainly, not! But, what is possible, is to get up and revisit those creations at certain places which re-define the aesthetic art works from all over the world for anyone who aspires to appreciate and show their love for art. 
Hauz Khas village: This place is particularly known for its bustling nightlife. The walls of many buildings have been adorned with eye-catchy paintings by Delhi's local street artists. You will not only find beautiful art here but also different places to enjoy your evening with popular bars, cafés, and restaurants and music. If you are a great lover of street art, you should go and visit this place. You can also spend your evening here with peace and freshness as this place offers a beautiful lake and a bird sanctuary which is very quiet, green and peaceful. 
Dilli Haat: Not only art, you will also find great pieces traditional artefacts to shop as well. Delhi Haat is a diverse market with great handicrafts and other number of items as well. This market is specifically set up by the government to provide a platform for artisans to come and sell their wares. This market gives the feel of a traditional village market and is mainly popular for its cultural performances and Indian cuisines. 
Alliance Francaise De Delhi: Alliance Francaise de Delhi is an Indo-French cultural centre that regularly organizes art and design exhibitions, film screenings, musical performances, dances, plays, literary readings and other events on French culture in India. There's a beautiful courtyard and a garden in this building as well. It also holds beginner and advanced level classes in French, and even has thematic courses on French literature and fine arts. The bustling in-house cafeteria is always filled with students and visitors, and offers delicious snacks and drinks. The centre also has a branch in Gurugram for cultural events.
Kiran Nadar museum of art:The Kiran Nadar Museum of Art is one of Delhi's best places and a must-visit for those who love and appreciate art. You'll find everything from paintings to prints and sculptures here. In the recent past, it has offered a well-curated group of exhibitions. You should definitely visit this one of the private fine museums of Delhi to experience true art forms. If you're lucky, you could even manage to catch an interesting talk, performance or a film screening here.
We will come up with more interesting and unusual places for all the different types of art lovers. Until then wander and soak in the beauty of art. Let us know where you made the best memories!